ERH 38/4A Wrist and thumb orthosis, Neuron series
Increased muscle tension causing bending and adduction of the wrist and thumb.
A proper adjustment of the wrist and thumb gradually restores hand functionality, and most of all potential adverse consequences resulting from the wrong position.
The orthosis covers the thenar, thumb, metacarpus and wrist joint.
It adducts the thenar and thumb, stabilizes the wrist joint in the optimal position.
The stabilization of the wrist joint and the thenar is done by a contoured orthopedic steel with the possibility of its individual adjustment.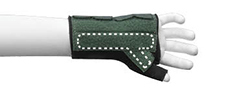 Stabilization of the joint and thenar by
the profiled orthopedic steel
| | | | |
| --- | --- | --- | --- |
| Size | S | M | L |
| Metacarpus circumference in cm | to 12 | 12 – 14 | 14 – 16 |
ERHEM's products are subject to reimbursement of purchase costs by:
To apply for a refund of any product, follow the algorithm below
The family doctor issues a referral to a specialist
The specialist doctor issues an order (application) for orthopedic equipment
The order (application) must be confirmed at the NFZ branch
Confirmed order (application) can be carried out in the medical salon