ERH 66/2 Apparatus stabilizing – abducting the hip joint with adjustable flexion and extension – Step to, Hip to Move series
The orthosis is intended for the patients with increased or spastic hip adductor work that causes jackknife gait in the course of cerebral palsy in children, and secondarily it may lead to subluxation or complete dislocation of the joint.
Spastic diplegia
Spastic quadriplegia
Subluxation/Dislocation of the hip joint
It enables the abduction of lower extremities in hip joints to 30°, 60° or 90°.
This prevents crossing limbs during gait.
It helps maintain the correct length of the limb's adductors, not leading to their contracture or subluxation in the joint.
The orthosis for use in the supine position and while sitting and walking.
It allows alternate physiological movement of the limbs during gait.
The MINI/MAX version allows you to change the angle of the hip joint abduction between 30°/60°/90°
The version STANDARD 30° ensures a steady abduction of the hip joint in the range of 30° with adjustable flexion and extension.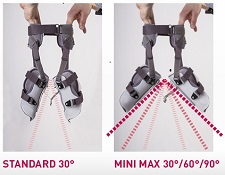 range of visit in the hip joint
| | | | | | | |
| --- | --- | --- | --- | --- | --- | --- |
| Size | XXS | XS | S | M | L | XL |
| Length of apparatus in the medial compartment of thigh (groin- knee joint) | 10-12 | 11-15 | 15-20 | 19-24 | 23-27 | 26-30 |
| Thigh circumference above the knee joint | 21 | 24 | 24-27 | 27-33 | 33-36 | 36-42 |
ERHEM's products are subject to reimbursement of purchase costs by:
To apply for a refund of any product, follow the algorithm below
The family doctor issues a referral to a specialist
The specialist doctor issues an order (application) for orthopedic equipment
The order (application) must be confirmed at the NFZ branch
Confirmed order (application) can be carried out in the medical salon