ERH 45/2 Valgus/Varus, Children orthosis on the entire lower limb correction, KAFO Ortho series
Knee joint axis disorders as valgus or varus knees.
Blount disease /tibial valgus.
An orthesis with a static, resting action.
Intended for day or night use.
It stabilizes the entire lower limb in extension and affects on the knee joint correctively.
The orthosis is available as: – VALGUS – Valgus correction. Splint on the outer thigh. – VARUS – Varus correction. Splint on the inner thigh.
In order to adapt to the patients height the orthosis can be extended in its upper part.
Soft foam in the foot part protects the foot from bruising during use.
Changing the length of the tapes of the knee joint pad increases the corrective action.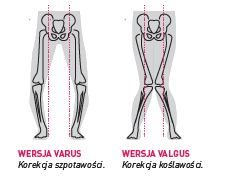 how to correct the limb
Size
S
M
L
XL
+ specify the length of the foot in cm for a given size
Orthosis total length in cm
30
35
40
45
Version Valgus/Varus
 
 
 
 
ERHEM's products are subject to reimbursement of purchase costs by:
To apply for a refund of any product, follow the algorithm below
The family doctor issues a referral to a specialist
The specialist doctor issues an order (application) for orthopedic equipment
The order (application) must be confirmed at the NFZ branch
Confirmed order (application) can be carried out in the medical salon