ERH 63 The Jewett corset TLSO
Pathological vertebra fractures.
Vertebral fractures and fractures of joint appendages.
Post-operational recovery.
Triplane spine stabilization of Th6 – L5 section or C3 – L5.
Width and height adjustment of the corset allows optimum fit.
The version with a diadem can stabilize also the cervical spine.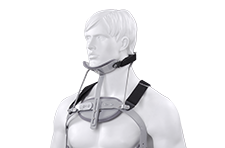 low stabilization of the cervical –
diadem
| | | |
| --- | --- | --- |
| Size | XS | S |
| Hip circumference in cm | 50-70 | 60-80 |
| Stabilization in cm | 30-38 | 37-45 |
ERHEM's products are subject to reimbursement of purchase costs by:
To apply for a refund of any product, follow the algorithm below
The family doctor issues a referral to a specialist
The specialist doctor issues an order (application) for orthopedic equipment
The order (application) must be confirmed at the NFZ branch
Confirmed order (application) can be carried out in the medical salon