ERH 49/6 Denis – Brown rail
Feet turned in
Lopsided feet
Lower limb torsional deformation
The orthosis immobilizes the foot in the intermediate position.
The rail adjusts the foot position in relation to the lower leg.
It contributes to greater mobility, thanks to which:
It is possible to sleep with one straight leg and the other one bent, reducing overstrain to the knees.
The child can turn easily and crawl on all fours.
Friction on the heel is reduced and the possibility of pulling the feet out of the orthosis is minimized.
The comfort of use and children's acceptance are increased.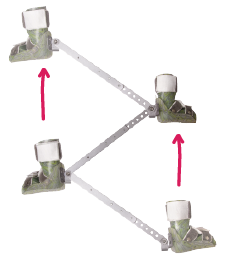 enables quadrupling and free rotation
| | | | |
| --- | --- | --- | --- |
| Rozmiar | S | M | L |
| Długość stopy w cm | 11-12 | 13-14 | 15-16 |
ERHEM's products are subject to reimbursement of purchase costs by:
To apply for a refund of any product, follow the algorithm below
The family doctor issues a referral to a specialist
The specialist doctor issues an order (application) for orthopedic equipment
The order (application) must be confirmed at the NFZ branch
Confirmed order (application) can be carried out in the medical salon