Electromechanical department
OFERTA
We invite you to familiarize yourself with the offer of our company.
In this section you can learn about the electrical branch of our company.
All products manufactured by us have the required certificates and authorizations.
As a confirmation of the high quality of our products, in 2000 Erhem received the ISO 9001: 2000 certificate.
It gives customers confidence that our product meets the highest quality standards.
Our company is listed in the Register of Medical Devices Manufacturers class I under the number: PL / CA01 03657 / W.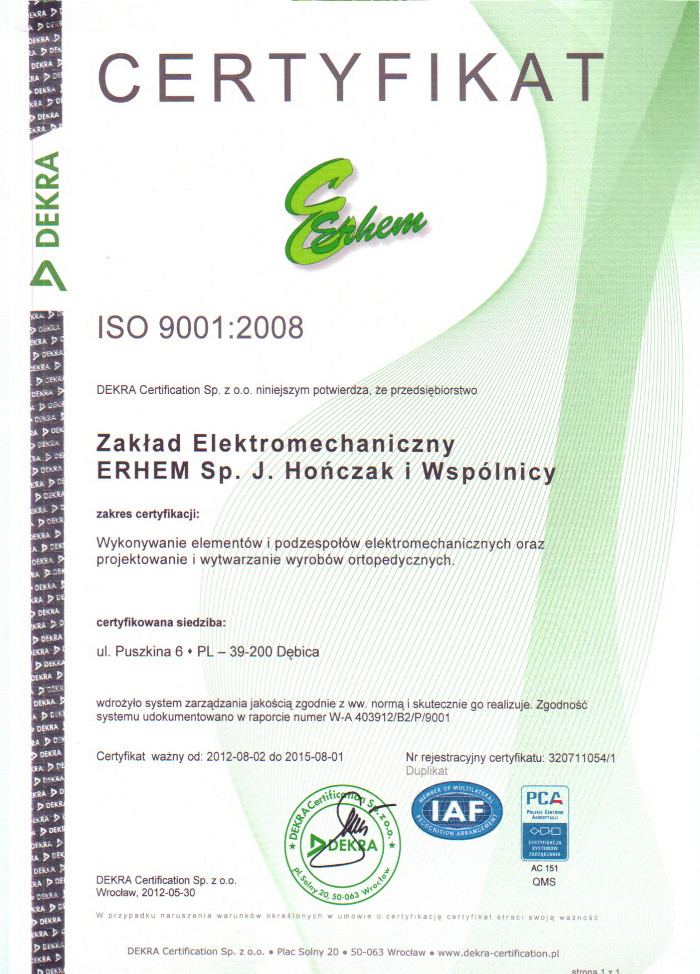 PARK MASZYNOWY
Our machines allow us to carry out high quality production.  We take advantage of machines provided by renowned manufacturers. We hold injection moulding machines, eccentric presses, CNC Longitudinal Cutting Automatic Lathe, CNC milling machines, vulcanizing presses, resistance welders, stator and coil winders, fully equipped sewing room – cutting room and others. If necessary, we are able to make tools and specific instruments.  









PRZYKŁADOWE REALIZACJE
Below we would like to present sample projects which comprise our electromechanical products.
{:pl}Noże i ostrza specjalne{:} {:en}Specific blades and cutters{:}

{:pl}Wyroby z gumy wulkanizowanej{:}{:en}Vulcanized rubber products{:}

{:pl}Elementy metalowe{:}{:en}Metal elements{:}

{:pl}Wyroby szwalnicze{:}{:en}Sewing products{:}

{:pl}Gniazda elektryczne, dławiki, czujniki podciśnienia{:} {:en}Electrical sockets, chokes, vacuum sensors{:}

{:pl}Sprężyny i amortyzatory{:}{:en}Springs and shock absorbers{:}

{:pl}Styki prądowe{:}{:en}Electric prongs{:}

{:pl}Metalowe elementy tłoczone{:}{:en}Pressed metal elements{:}

{:pl}Stojany, cewki elektryczne{:}{:en}Stators, electric coils{:}

{:pl}Toczone CNC detale metalowe{:}{:en}Pressed CNC metal details{:}

{:pl}Elementy wtryskiwane{:}{:en}Injected elements {:}

{:pl}Szczotkotrzymacze{:}{:en}Brush holders {:}